Workplace Ergonomics - How to Maintain Optimal Health and Energy
Workplace Ergonomics - How to Maintain Optimal Health and Energy
Written By Harrison Chiropractic and Wellness on August 13, 2020
---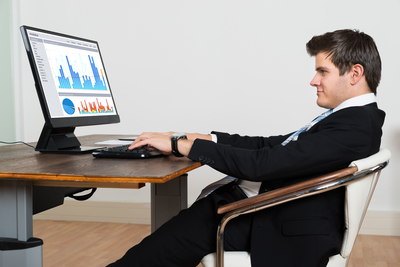 Maintaining a poor work posture is harmful to your health. Poor posture is related to painful and sometimes debilitating conditions, including fatigue, breathing problems, neck and back pain. Improving your posture can help prevent injuries in the future and improve your health and wellness.
The Consequences of a Poor Work Posture
Having a poor work posture can be detrimental to your health. If you've been maintaining a poor work posture, you may be experiencing symptoms such as:
Persistent or chronic headaches
Neck or back pain
Foot, hip, or knee pain
Jaw pain
Fatigue
Difficulty breathing
Workplace Ergonomics: Improving Your Posture with Simple Changes
Improving posture can be as simple as making a few adjustments every day. These workplace ergonomics can help you improve your work posture and relieve aches and pains.
Adjust Your Chair Height and Keep Your Feet Flat: It's essential to maintain a good work posture when sitting at a desk. It would be best if you were seated level with your screen with your feet flat on the floor and your knees level with your hips. You can further improve lumbar support by sitting on a cushion.
Ensure That Everything You Need is Easily Reachable: Extending yourself and reaching for objects that are far away consistently is an example of poor work posture. Instead, keep your go-to-items effectively positioned in easy to reach areas.
Straighten Out Your Wrists: Always use wrist support and make sure that you keep your wrists straight whenever typing.
Take Breaks for Mobility: Working in the same position for lengthy periods will cause your body to fatigue and your work posture to suffer. Improving your posture means making mobility a priority throughout your day. Take breaks to stand, stretch, or walk around.
Find Help Improving Posture in Taylorsville
Around 22 million Americans seek chiropractic care each year. These patients commonly seek help with back pain, headaches, muscle tension, sports injuries, accidents, and damage caused by poor work posture.
Dr. Eric Harrison has become a cornerstone of the Taylorsville community for his passion for helping others, experience, and a patient-centered approach. Your first visit will include an initial consultation, examination, and a review of your history and any symptoms you may be experiencing. Dr. Harrison will be able to provide you with guidance on improving your posture while relieving painful symptoms that you may be experiencing.
Are you experiencing pain or stiffness from a poor work posture? Contact our office today at (801) 966-3101 or schedule an appointment online to get started.

Posted In: Chiropractic Workplace Ergonomics